The books below are presented in the order they were written: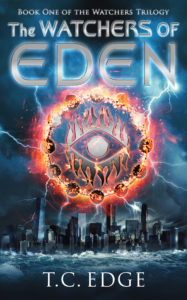 THE WATCHERS OF EDEN
  In the hot and harsh farming region of Agricola, Cyra Drayton prepares to be tested. Along with all 16 year olds, she's about to discover what duty she'll hold for life.
For most, their paths are set – they'll follow in their parents' footsteps. For Cyra, however, the little world she knows is about to become a whole lot bigger.
Because Cyra isn't just a normal girl. She's got a special gift, a powerful ability, locked deep down inside. She doesn't know it yet, but she's to be sent to Eden, the most powerful of the sea cities.
There, her true purpose will be discovered, a purpose that will change her world forever. And in time she might just change the world for everyone else as well…
CITY OF STONE
The attack is over. But the war has only just begun…
Cyra has survived the attack by the Eden soldiers. Her father, Drake, has come back from the dead. Link has been killed. The entire world is falling apart. But Cyra, along with Ellie, Jackson and Theo, have to go on.
Together with Drake, and thousands of other refugees, they cross the Deadlands to Petram, the great mountain city of stone. There, they think they're safe. But they're not. No one is safe from the power of Eden. No one is safe from Augustus Knight.
And soon, with an Eden army amassing below, their mountain fortress threatens to become a tomb. Unless they do something about it first. There's only one thing they can do. Cut off the head of the snake. Kill Augustus Knight.
WAR AT THE WALL
They've escaped Eden. Escaped Knight. But they can't run forever…
Having wriggled free of the clutches of Augustus Knight, Cyra and her friends find themselves back in Petram. But once again, their escape came at a cost. The dearest cost of all.
Their mission was a failure. Now, they have no choice but to fight their way out. Before long, they will have to face the full might of Eden. And it's a fight that Cyra knows they can't win.
But win or lose, live or die, they have to try. Armies will meet. Thousands will die. But for Cyra, a more personal battle looms. And with it, the entire fate of the world will be decided…